Current Peer Groups, 2023
Short Story Sandbox

Co-sponsored by the Great Plains Conference, UMC and the Perkins Center for Preaching Excellence at SMU.
Short Story Sandbox is a 5 session preaching peer group focused on reading short stories to vitalize our preaching!
Reading short stories can spark preachers' imaginations and make us better at our craft. Sessions will focus on various aspects of storytelling (theme, tone, plot, point of view, imagery, scene, and character).
Group Leaders:
| | |
| --- | --- |
| | Rev. Dr. Larry parsley, a lover of stories and a career Baptist pastor, Larry is currently the senior pastor of Valley Ranch Baptist Church in Coppell, Texas. Dr. Parsley holds a Ph.D from Baylor in preaching and ethics and is a regular contributor to Mockingbird Ministries website (www.mbird.com) and Christianity Today, writing on the intersection of preaching and literature. |
| | Dr. Alyce McKenzie, Le Van Professor of Preaching and Worship at Perkins and Director of the Center for Preaching Excellence at SMU. She is the author of Novel Preaching: Tips from Top Writers on Crafting Creative Sermons and Making a Scene in the Pulpit: Vivid Preaching for Visual Listeners. |
| | Dr. Lee Ramsey is Marlon and Sheila Foster Professor of Pastoral Theology and Homiletics Emeritus at Memphis Theological Seminary, Memphis, TN. He is the author of Care-full Preaching: From Sermon to Caring Community and Preachers and Misfits, Prophets, and Thieves: The Minister in Southern Fiction. |

Passion for Preaching - for Early Career Pastors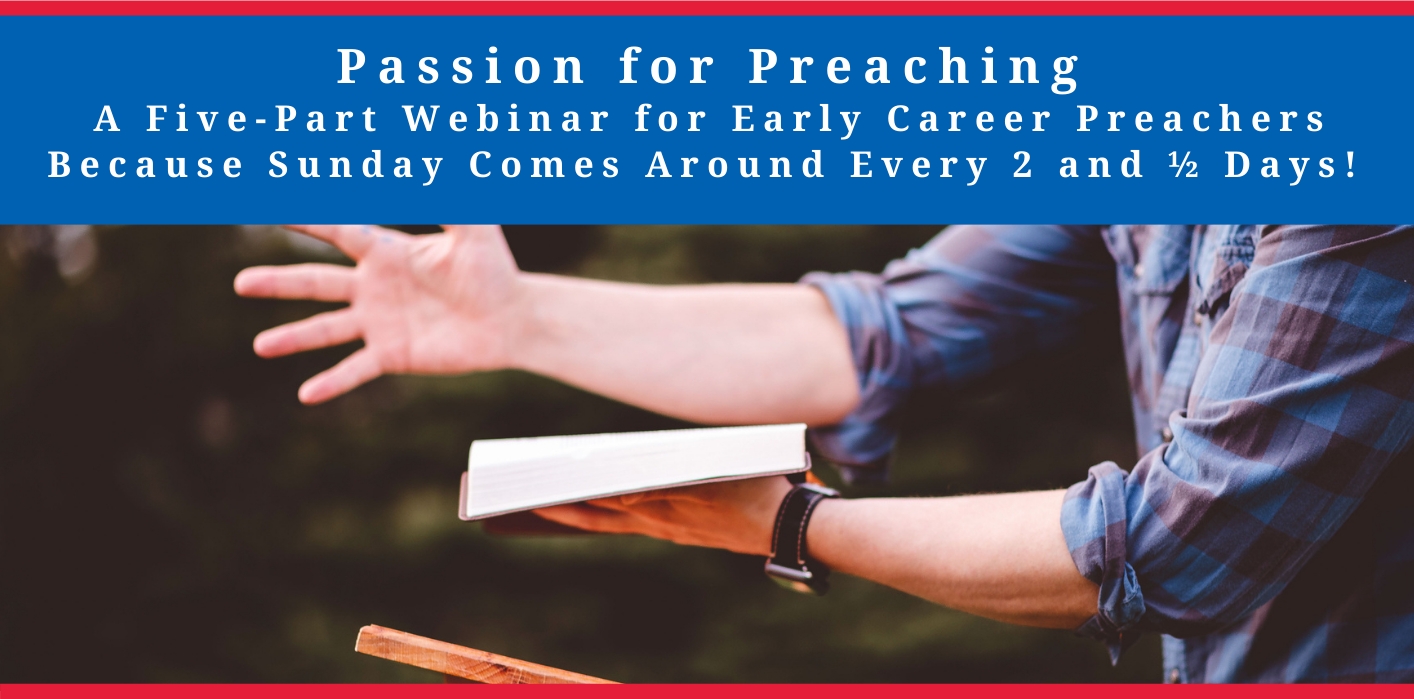 Co-sponsored by the Great Plains Conference, UMC and the Perkins Center for Preaching Excellence at SMU.
Preaching is a privilege and responsibility for pastors serving in local congregations. It's also a skill that can be developed. The Office of Clergy Excellence and the Perkins Center for Preaching Excellence at SMU have a partnership in creating accessible continuing education opportunities for the clergy of the Great Plains. This five-part zoom webinar explores holy habits for fanning the flame of their passion for preaching, developing ways to stay enthused, creative, and fresh for years to come!
Group Leaders:
Dr. Lucy Lind Hogan - Hugh LatimerElderdice Professor of Preaching and Worship Emerita
at Wesley Theological Seminary in Washington, D. C. Ordained in the Episcopal Church, Lucy
has taught at Wesley since 1987. She received her M.Div. from Virginia Theological Seminary
and her Ph.D. in Rhetoric and Communication from the University of Maryland. Dr. Hogan is
the past president of Societas Homiletica, the international homiletic society, and served as
secretary of the North American Academy of Homiletics.

Rev. Ivan Milosi - senior pastor at St Luke UMC in Lincoln, NebraskaGraduate of Wesley Theological Seminary in DC as well as a double graduate of Africa University in Zimbabwe with a Bachelor's degree in Divinity in 2010 and a Master's in Peace Governance and Conflict Resolution in 2014. While in DC, Ivan worked on Capitol Hill as the Social Principles Revision Program Coordinator at the General Board of Church and Society (GBCS) of The United Methodist Church. Before going to seminary in Washington DC, Ivan worked as a youth and campus minister at Wesley Foundation at Perdue University in West Lafayette, Indiana, for over a year. Upon his graduation, he was appointed as the pastor of Lakin First United Methodist Church in southwest Kansas, where he served for three years and a half.

Next Level Preaching - Honing Your Homiletical Skills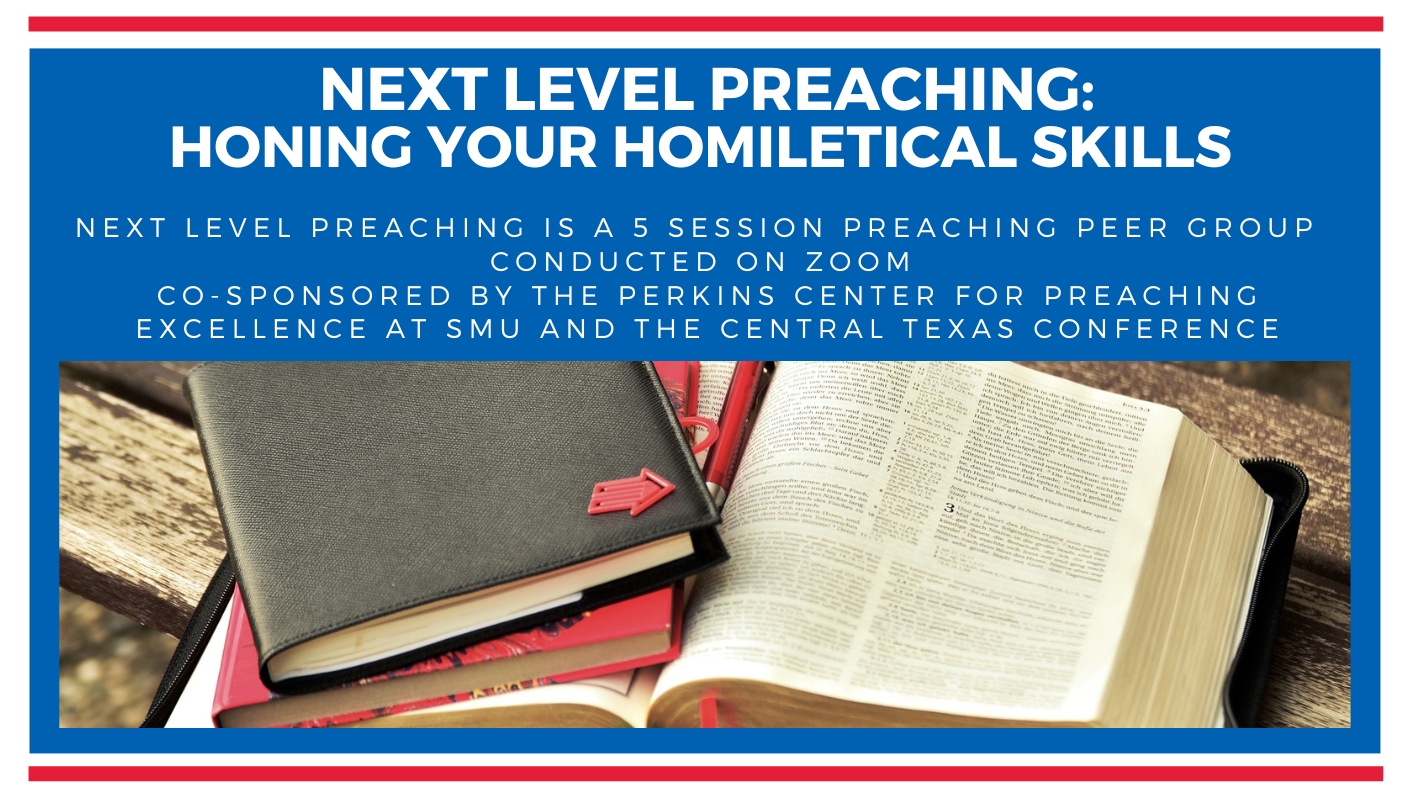 The Central TX Conference, in collaboration with the Perkins Center for Preaching Excellence at SMU, is sponsoring a preaching peer group for clergy who would like to fine-tune their skills in the craft of preaching. Participants prepare for each session by reading a couple of brief articles or book chapters on topics that relate both to content and delivery. Each session includes a discussion of sermons by two group members that the rest of the group have viewed online before the session.
Group Leaders:
Rev. Dr. Paul Scott Wilson - Professor of Homiletics Emeritus at Emmanuel College of the University of Toronto.

Dr. Wilson is a prolific author and one of the most respected and recognized teachers of homiletics in North America. He is the author of a number of books, including The Practice of Preaching, Imagination of the Heart, God Sense: Reading the Bible for Preaching, and The Four Pages of the Sermon, all published by Abingdon Press. He is the General Editor of The New Interpreter's Handbook of Preaching.

Rev. Beth Evers - Pastor at University United Methodist Church, Fort Worth.

Beth Evers is a graduate of Perkins School of Theology and has served as the pastor of University United Methodist Church in Fort Worth since 2012. Her passion is to help people experience the transforming love of Jesus Christ through worship, relationships, and mission. She loves trying new things and isn't afraid of change. Beth is one of those people who actually likes meetings (but not coffee), planning and order, yet appreciates the beautiful chaos of church.