From Shelf to Spotlight: The Hidden History of Women's Speeches
Wednesday, September 16, 2020 12:30 PM - 2:00 PM
Location(s): Online webinar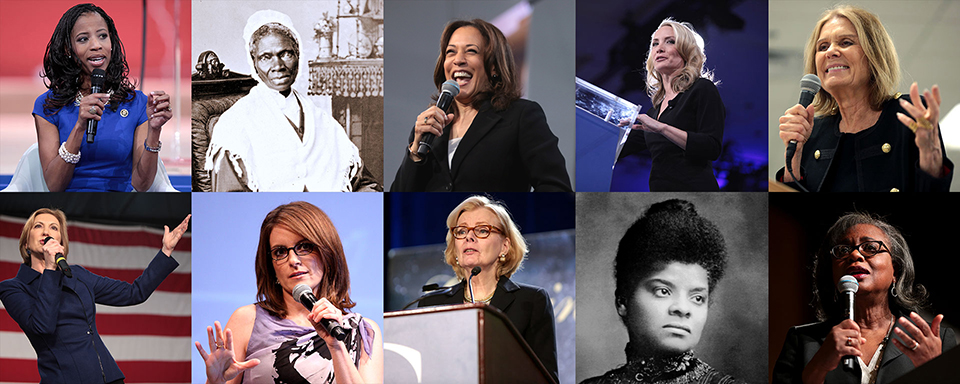 WEBINAR:
From Shelf to Spotlight: The Hidden History of Women's Speeches
Wednesday, September 16, 2020 12:30 PM - 2:00 PM


Location: online webinar
Why do speeches by women make up so few entries in "great speeches" anthologies? Not because women of the past haven't been bold and courageous orators, using their voices to speak out on crucial issues through the centuries! But because, too often, their speeches have been lost, their ideas forgotten, and their public voices silenced.
Dana Rubin, award-winning journalist and curator of the Speaking While Female Speech Bank, will share her timely, inspiring research into the hidden history of women's public speech, highlighting stories of women past and present who used their voices for change. Punctuated with intriguing commentary and video footage, "From Shelf to Spotlight" will inspire respect for women's voices of the past, present, and yet to come.
This event is free and open to the public, but registration is required.
About the speaker:
Dana Rubin is a consultant, speaker, and writer whose focus is on women's speech, voice, and thought leadership. She is the curator of the "Speaking While Female Speech Bank," https://speakingwhilefemale.co/, a showcase for women speakers from across time and around the world.
When Dana began her research into women's speeches, she turned to the many speech anthologies lined up on her bookshelf. She says, "Thumbing through them, I could see that women's voices have been completely overlooked. Women have been almost entirely absent from the history of public speaking. What they said was seldom written down or remembered."
By showcasing video, audio, and transcripts of women's speeches, "Speaking While Female" celebrates women's voices and wisdom through the ages. Elizabeth Cady Stanton, Sojourner Truth, Eleanor Roosevelt, Barbara Jordan — they're all there. So are younger, less familiar voices like Rachael Denhollander, Lidia Thorpe, Claire Lehmann, and Mhairi Black — plus hundreds more.
"Speaking While Female" is based on the passionate conviction that women's words matter. As we recover powerful words of women from the past, we experience them in the present and are emboldened to step up and speak out ourselves, for our common future.
Dana, a native of Dallas, is an award-winning journalist who has written for Texas Monthly, Readers Digest, Institutional Investor, The Independent on Sunday, and many other publications. She holds degrees with honors from Yale and the University of Texas and has worked with women at all career levels in the corporate, public, and non-profit sectors, as well as written speeches for high-profile women in corporate and public life. Dana is a judge for the annual Cicero Speechwriting Awards, which recognize outstanding contemporary speeches and speechwriters. For fun, she judges high school debate tournaments.
Add Comment:
Would you like to be notified when a comment is added?