You've Got a Friend in Me - Reflections on John 15:9-17
by Dr. Alyce M. McKenzie on Monday, May 3, 2021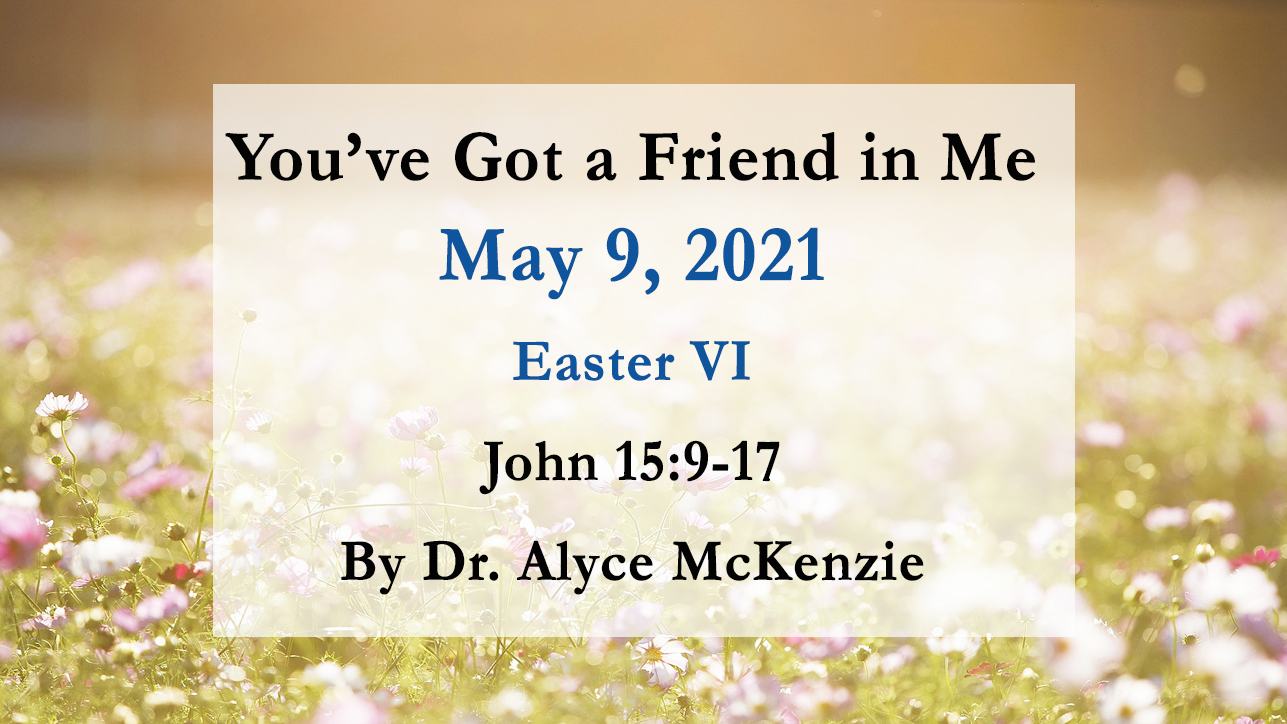 You've Got a Friend in Me
Easter VI May 9, 2021
John 15:9-17 May
I'm fascinated by how fascinated we are with the topic of friendship. Theologians, philosophers, poets, songwriters, novelists, filmmakers, sociologists, anthropologists, and psychologists have all dealt with this topic. Song lyrics and quotes by famous and not-so-famous people abound on the topic. Some of them are listed below.
The best quote on friendship of all comes from the best friend of all. "No one has greater love than this, to lay down one's life for one's friends" (John 15:13). The friendship of the best friend of all is highlighted in John's gospel. In the synoptic gospels the concept of friend is not nearly as prominent as it is in the gospel of John. In Luke and Matthew, the concept is found in rather negative contexts. Luke refers to friends as handing over Christians in times of persecution (21:16). In Matthew Jesus as friend is a source of criticism for his opponents. They accurately accuse him of being "a friend of tax collectors and sinners" (11:19). He is criticized for recognizing no boundaries in friendship, for disregarding ritual purity (Ford, 108).
But the gospel of John is a different story. Here the word friend (philo) occurs 6 times. Jesus mentions the "friend of the bridegroom" in a positive context in 3:29. Jesus refers to Lazarus as "our Friend" (11:11). We are told that the good shepherd "lays down his life for his friends" (10:11). The disciples are elevated from servants to friends (philoi) in John 15:13-15. The crowd taunts Pilate, calling him "no friend of the emperor" (if he releases Jesus) in John 19:12.
In this week's text, John 15:19-17, immediately following on the metaphor of the Vine and the branches, Jesus teaches the disciples that discipleship means friendship with him and with God. Discipleship is being a branch of the vine. It is relational. Hence Jesus' use of the term "friends" for his followers: "I no longer call you servants…I have called you friends" (v 14). Jesus distinguishes friendship from servanthood. To be a friend is to share a personal relationship and to be made aware of the plans and purposes of the other. This is how the Father has related to the Son (Jn 5:20). Thus, just as Jesus learned from the Father, so now he makes known his purposes to his disciples. (Hillmer, 87) And he states the core value of friendship in the community of followers:
'No one has greater love than this, to lay down one's life for one's friends." (Jn 15:13)
Friendship Rewind
There are precedents for this sacrificial notion of friendship. If we do a historical rewind, we encounter the notion of friendship in the O.T., in Jewish writings between the Testaments, and in Greek and Roman philosophy. In the O.T. several people are said to friends of God, including Abraham (2 Chron 20:7; Isa 41:8) and Moses (Exod 33:11) Older Jewish sources sometimes treated the subject of friendship Prov 17:17; 22:24; 27:6,10 Sir 6:5-17; 9:10;12:8-9; 13:21; 37:1-6) Socrates viewed friendship as the most precious of all possessions, the greatest blessing that a person can possess. A friend shows generosity and courage in supplying every need of his friend. For some friends, one would sacrifice one's own life (Ford, 78).
Sallie McFague, in her book Models of God, discusses the characteristics of friendship in biblical, theological terms. Friendship does not arise from necessity. We enter into it freely. As such it represents the very essence of divine election in which God chooses to enter into relationship of friendship with Israel. Friendship is based on a disinterested love for the unique characteristics of the other. Friendship forms strong bonds and the betrayal of a friend ranks as the most dastardly of deeds. She points out that Dante reserves the inner circle of Hell for Judas, Brutus, and Cassius. (Ford, 73-74)
Then and now, friendship with Jesus brings followers into a relationship of reciprocal love, creating a community in which people who addressed each other as "friends" could realize the ideal of mutual self-sacrifice(15:12-14) (Koester, 241)
There are, as you'll see from the list below, many descriptions of who friends are and what they do. After each one, I nod my head and say, "Yes, that's him all right."
"Lean on me, when you're not strong, and I'll be your friend, I'll help you carry on, for it won't be long, 'til I'm going to need somebody to lean on."
- "Lean On Me" Lyrics by Bill Withers (1972)
"In good times, in bad times I'll be on your side forever more, that's what friends are for."
- "That's what friends are for" Lyrics by Carole Bayer Sager (1982)
"I get by with a little help from my friends."
"With a Little Help from My Friends," John Lennon and Paul McCartney, 1967
"Don't walk in front of me, I may not follow.
Don't walk behind me, I may not lead.
Walk beside me and be my friend."
- Albert Camus (also attributed to Maimonides)
"Two are better than one; because they have a good reward for their toil. For if they fall, the one will lift up the other."
Ecclesiastes 4:9-10
"For a shield from the storm, for a friend, for a love to keep me safe and warm...I turn to you. For the strength to be strong, for the will to carry on...for everything you do, for everything that's true, I turn to you."
"I Turn to You"-Lyrics by Diane Warren 1996, recorded by Christina Aguilera 1998
Even one who possessed all goods would not wish to live without friends
Aristotle, 384-322, Greek Philosopher (Nichomachean Ethics)
"Make new friends and keep the old, one is silver and the other gold" (Girl Scout Song)
"You've got troubles, I've got 'em too. There isn't anything I wouldn't do for you. We'll stick together to see it through cause you've got a friend in me."
-"You've Got a Friend in Me" Lyrics and Music by Randy Newman 1995
"Earthly friends may prove untrue, doubts and fears assail, but one still loves and he cares for you. One who will not fail."
-Song "Jesus, never fails" Lyrics and Music by Arthur Luther, 1927
Quotes and songs on friendship abound. But the best quote on friendship of all describes the best friend of all.
"No one has greater love than this, to lay down one's life for one's friends" (John 15:13).
Sources Consulted
Melvyn R. Hillmer, "They Believed in Him: Discipleship in the Johannine Tradition," in Patterns of Discipleship in the N.T. ed by Richard N. Longenecker.
Craig R. Koester, Symbolism in the Fourth Gospel: Meaning, Mystery, Community.
J. Massyngbaerde, Redeemer, Friend and Mother: Salvation in Antiquity and in the Gospel of John.
The quotes on friendship are from http://www.friendship.com.au/
Add Comment:
Please
login or register
to add your comment or get notified when a comment is added.