Preaching to an Empty Tomb
by Alyce M. McKenzie on Tuesday, April 7, 2020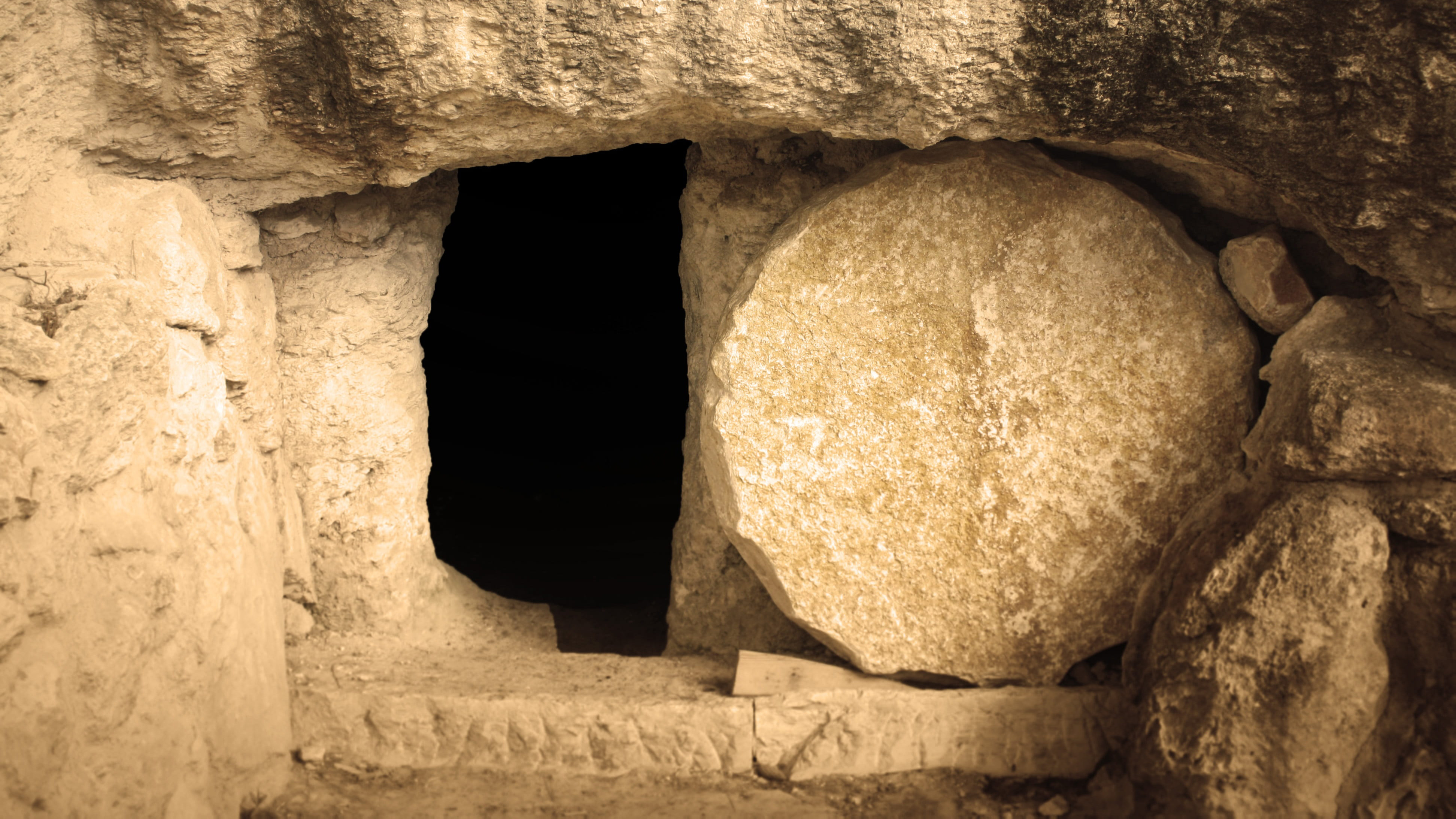 I wake up every morning these days with an initial, hopeful thought, "A new day!" quickly followed by a thud of remembrance in the pit of my stomach– "But it's another Corona confinement day." And I am someone whose job is not in jeopardy, whose fridge is full, and who has the companionship of my spouse. Others are waking up to a new day with more than a morning slump, but a persistent sense of being entombed, shut off from others and struggling to feel the presence of God all day long. There is profound biblical precedent for this feeling. The Israelites: another day of captivity in Babylon. Paul: another day under house arrest. The poor of Jesus' day: another day under Rome's heel. Fast forward to April, 2020. Another day in ICU cut off from family and friends. Another day at home cut off from loved ones in ICU. Another day caring for the sick, stocking shelves, delivering needed services. Entombed in loneliness, sorrow, anxiety.
A few days ago Surgeon General Dr. Jerome Adams warned that "This is going to be the hardest and the saddest week of most Americans' lives." Images of makeshift morgues, businesses closed, people laid off, health care workers pleading for more supplies, first responders falling ill, and crowded intensive care units …. it is indeed a sad week.
Holy Week is the saddest week we experience every liturgical year. It is the week where we see the worst in human beings inflicted on the best of human beings, on the Son of Man, the representative human being who is also the Son of God. It is the week where we see the attempted destruction by human beings of One who is a gift from the very heart of God. Most Holy Weeks, despite the brutality, violence, injustice, and poverty in the world, we experience an upwelling of hope in our souls. But this Holy Week, my sense is that, while many people experience the empty tomb, it's not in an Easter Sunday sort of way. Instead, they experience themselves trapped within it, devoid of divine companionship, with no one to roll the stone away. A confinement that is beginning to feel, not just claustrophobic, but permanent. Like Lazarus, never emerging from his tomb. Like Paul, in prison with no release date and no reason for rejoicing. Like the Israelites looking up from their toil, squinting to discern a path appearing through the sea, but seeing none.
In this saddest week of many of our lives, this Holiest week of the year, events are offering a very convincing argument that death has a sting that is stronger than life. Slogans like "We are all in this together," and "We will get through this" provide some solace. Images of human kindness warm the heart: people delivering food, sewing masks, holding neighborhood dance parties, delivering thank you cards to grocery store and sanitation workers, and holding up appreciation posters for medical workers. Pictures of babies and flowers on Facebook bring a smile. Much as I appreciate the slogans, much as I love both babies and flowers, we need hope from a source deeper than solidarity through shared human misery and comfort, more abiding than images from the cycle of life.
Christian preachers this week stand at the entrance to the empty tomb and preach to those within it. What is it we all need to hear?
We need to give credit for every good and kind thing we see happening around us to God, the author of life and love. We need to refrain from blaming God for the virus, a claim that reflects our human need for explanation, not the character and actions of the God in the world. We need to refrain from offering the sunny promise that "God will fix this." While God works in everything for good, such glib assurances absolve us of the need to respond to God's actions with acts of generous courage.
We need Paul's reminder that "We walk by faith and not by sight" (2 Corinthians 5:7), that, despite the inherent uncertainties of our risky lives, despite the signs of death all around us, we have a God who is our refuge and strength, a very present help in trouble." (Psalm 46:1)
We need the reminder that this God offers us, not only a present help, but a future hope: the overarching Scriptural assurance that, thanks be to God, kindness will win out over brutality, peace will win out over violence, joyous hope will win out over despair, and unity will win out over division. Our eternal life with God will win out over death.
We need Paul's insistence that "We are more than conquerors through him who loved us." (Romans 8:37)
We need Isaiah's assurance that, for Christians, is epitomized in God's raising God's Son from the dead and securing for us the ultimate victory over violence, selfishness and death.
For as the rain and the snow come down from heaven,
and do not return there until they have watered the earth,
Making it bring forth and sprout,
giving seed to the sower and bread to the eater,
so shall my word be that goes out from my mouth;
it shall not return to me empty,
but it shall accomplish that which I purpose,
and succeed in the thing for which I sent it. (Isaiah 55:10-11)
We need the light of resurrection to illuminate the angst of the Garden and the anguish of the cross, to gleam through the edges of the stone rolled against all tombs.
That is quite a long list of "We needs." The good news we preach this Holy Week and Easter to people entombed in anxiety and despair, ourselves included, is not ultimately about what "We need." It is about what, by God's grace, we have. Or, more precisely, Whom. This One is standing right before us, ignoring social distancing guidelines, closer than hands and feet. This One passes through thick walls and locked doors to stand before traumatized disciples to breathe on them the Spirit, the breath of life and peace.
This One stands at the entrance to Lazarus' tomb, and, if he can't or won't come out, goes in after him.
Whatever tomb we are in this Holy week, it is not empty of God. It is filled with the presence of God who raised God's Son from the dead, whose love is stronger than death, and from whom we can never be separated in this life or the next. Thanks be to God!
Add Comment:
Please
login or register
to add your comment or get notified when a comment is added.