Preaching and the Thirty-Second Commercial by O. Wesley Allen Jr. and Carrie La Ferle
by Perkins Center for Preaching Excellence on Thursday, July 1, 2021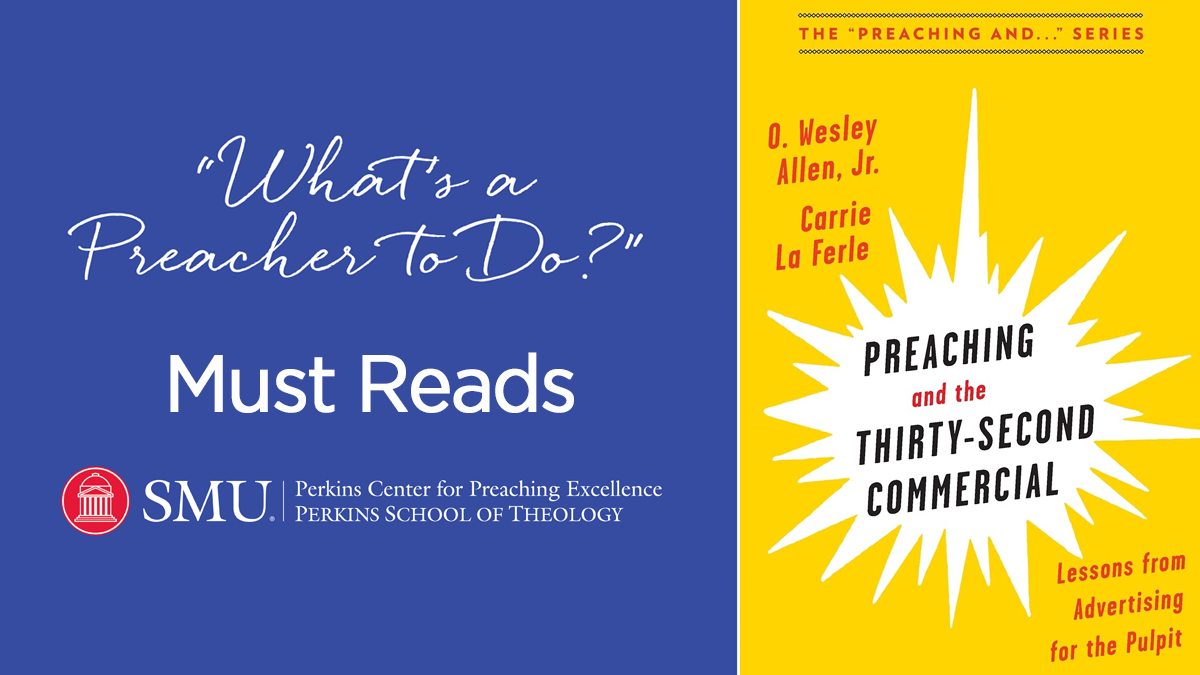 Must Reads, Episode 15
with Dr. O. Wesley Allen Jr. and Carrie La Ferle
featuring their book Preaching and the Thirty-Second Commercial
Welcome to episode 15 of Must Reads with Dr. O. Wesley Allen Jr. - Lois Craddock Perkins Professor of Homiletics, Perkins School of Theology and Dr. Carrie La Ferle - Marriott Endowed Professor of Ethics and Culture, the Temerlin Advertising Institute at SMU.
At first glance, preaching and advertising seem worlds apart from one another. One tries to proclaim the love of God and neighbor; the other tries to sell you something that you may or may not need. Yet both must compete with other ways we receive and process information in an increasingly distracted world.
Dr. Carrie La Ferle is a professor in the Temerlin Advertising Institute at SMU. She holds a Ph.D. in advertising from The University of Texas at Austin, an M.A. in advertising from Michigan State University and a B.A. in sociology from the University of Western Ontario. For 20 years, she has been teaching undergraduate and graduate classes in International Advertising and Advertising Ethics. Her research examines how culture impacts advertising and consumer behavior. She also looks at the impact of advertising on society through cause-related marketing initiatives and the technique of retouching models in advertising.
La Ferle's work has appeared in over 50 publications, including articles published in Journal of Advertising, Journal of Advertising Research, International Journal of Advertising and Journal of Business Research, among many others. Her research has been awarded a variety of grants and she is listed in several Who's Who publications. She has been a Visiting Fellow at Nanyang Technological Institute in Singapore, taught International Advertising in Hong Kong and been a research fellow in Costa Rica.
La Ferle has received several awards, such as the Teacher-Scholar Award during her time at Michigan State University; the President's Associates Outstanding Faculty Award in 2009 from SMU; and, in 2012, the Altshuler Distinguished Teaching Professor Award, SMU's highest teaching recognition.
La Ferle has been an active member of the American Academy of Advertising for over 20 years, holding positions from newsletter editor to vice president. She is also a longtime member of the International Advertising Association and serves on the editorial review boards of many journals, including the Journal of Advertising. Prior to academia, Dr. La Ferle worked in agencies in Toronto, a media buying firm in Los Angeles and a licensing and merchandising company in Tokyo.
Rev. Dr. O. Wesley Allen, Jr. is the Lois Craddock Perkins Professor of Homiletics at Perkins School of Theology at Southern Methodist University. Dr. Allen serves as president of the Academy of Homiletics. He earned degrees from Emory University, Yale Divinity School; and Birmingham-Southern College. Previous to Perkins, Dr. Allen served on the faculties of Lexington Theological Seminary and Drew University, and served as a local church pastor and campus minister.
He is the author and editor of numerous books on homiletics and interpretation of the New Testament, as well as many scholarly articles and published sermons. Allen's area of expertise,the Synoptic Gospels and Acts, produced the seminal Reading the Synoptic Gospels: Basic Methods for Interpreting Matthew, Mark, and Luke (revised and expanded in 2013).
In the arena of preaching and worship, Dr. Allen has special interest in rethinking the role of preaching and liturgy in the shifting, postmodern world of the twenty-first century. Other books published with Chalice Press include Preaching Resurrection and Preaching and Reading the Lectionary: The Three Dimensions of the Liturgical Year.
Add Comment:
Please
login or register
to add your comment or get notified when a comment is added.