Great Solace Amid Great Pain - Reflections on Isaiah 43:1-7
by Dr. John Holbert on Monday, January 3, 2022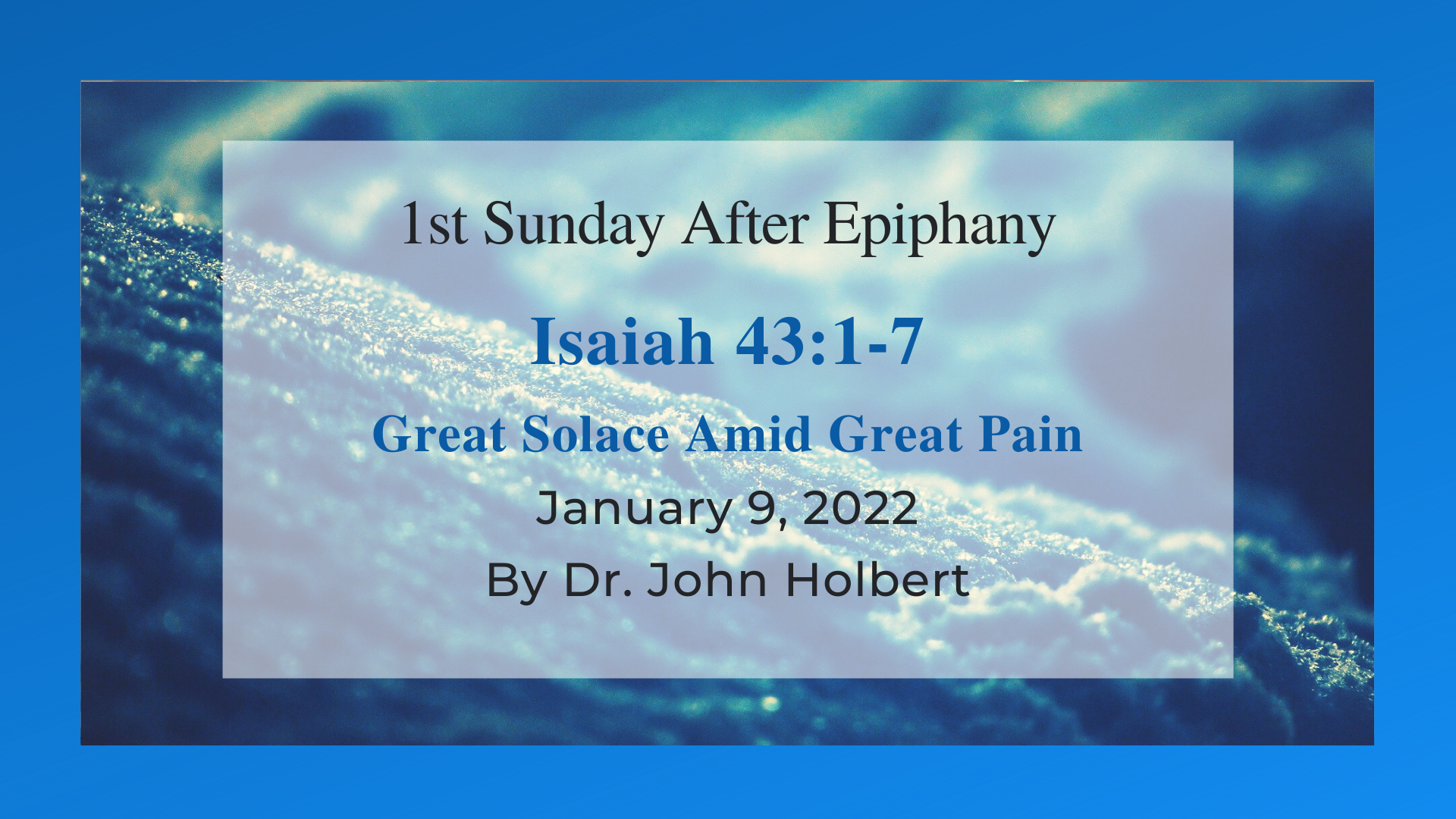 Great Solace Amid Great Pain - Reflections on Isaiah 43:1-7
The Peripatetic Hebrew Bible Preacher Dr. John Holbert
I can never read this glorious passage from 2-Isaiah without remembering a distinctly personal experience I had with it many years ago. It involves my wife of now 52 years, following a huge surgery on her back. She had deferred this necessary surgery for too many years because she had had trouble with her lower back ever since she had broken her tailbone in high school, and had performed liturgical dance with that broken bit in numerous churches over the following years. Two occasions told her it was far past time to deal with this painful problem.
She and I were on our way to Alaska to lead a workshop in that state, she a dance class and I a Bible study. When we changed planes in Salt Lake City, she found she simply could not get out of her seat and had to call for a wheelchair to get her to the next flight. A few years after that event, she and I were asked to record a video for the Disciple Bible IV series, wherein she danced while I sang that lovely tune, "Eagle's Wings." We performed the piece numerous times during one long Nashville day. Between the takes of the video, it became necessary for me to massage her back and force the vertebrae back into place since several of them continued to pop out of line. Needless to say, her pain was excruciating.
Upon our return to Dallas, she made an appointment to see a venerated orthopedic surgeon who quickly determined that she did need surgery and that a neurosurgeon would be the right practitioner to perform the needed procedure. She went ahead with the surgery but was hardly prepared for the results. Though the surgery was a success, by all medical standards, the ensuing recovery was long and arduous, beginning with a lengthy three days in the hospital. We were very fortunate to be given a room with a separate place for me to sleep—with a real bed—while she began to recover from surgery.
The first day was especially difficult as the search for the right pain medication led first to hallucinations and confusion until the right medicine was found. She had a pain button that she could push whenever she felt overwhelmed with the searing discomfort. Diana has a very high pain threshold, but that button got a genuine workout. While the woman of my life lay in real agony on that hospital bed, she asked me to read to her passages of scripture. Isaiah 43 was the one I must have read 30 times or more. Somehow its words reached deep into her pain and provided solace and comfort, unlike any other biblical text.
I spent so long in describing an actual use of this text in a situation of real peril to suggest that there is genuine power in these ancient words. When we read and reflect on Is.43, we are playing with fire, working with wonder, announcing healing into a world that is too often sick. "When you pass through the waters, I will be with you; and through the rivers, they will not overwhelm you; when you walk through fire you will not be burned, and the flame (pain?) shall not swallow you up" (Is.43:2). The context of this text, as is the context of the whole of 2-Isaiah, is the Babylonian exile of Judah, words spoken to a broken and shattered people in exile from all they have known. Instead of recriminations for the vast sins of the people that have brought about that exile, as many believed about the reasons for their loss of land, king, and temple, Isaiah offers instead words of potent healing, language of cure, and restoration. Such language is the promise of the Epiphany of the Lord, the announcement that something new and wonderful has come into the world, not merely the sweet baby Jesus, but the claim that with that baby comes also the hope and healing that all need in their exiles, however, those exiles may be defined and enumerated.
"Comfort, comfort, my people," begins Is.40, the introduction to one of history's greatest and most necessary documents. In Isaiah we find a brilliant representation of that most basic and uncanny statement of God's hallowed promise to us all: there is, in the end, no death, no exile, no pain, no hopelessness, in which God may not find life in it. My wife knew that, and so did I as I read those words to her on her bed of pain. As old Godric in Frederick Buechner's fabulous novel said: "All the death there is, set next to life, would scarcely fill a cup." And there is what Epiphany is all about.
Add Comment:
Please
login or register
to add your comment or get notified when a comment is added.