Feeding the Multitude: Reflections on Matthew 14:13-21
by Alyce M. McKenzie on Monday, July 27, 2020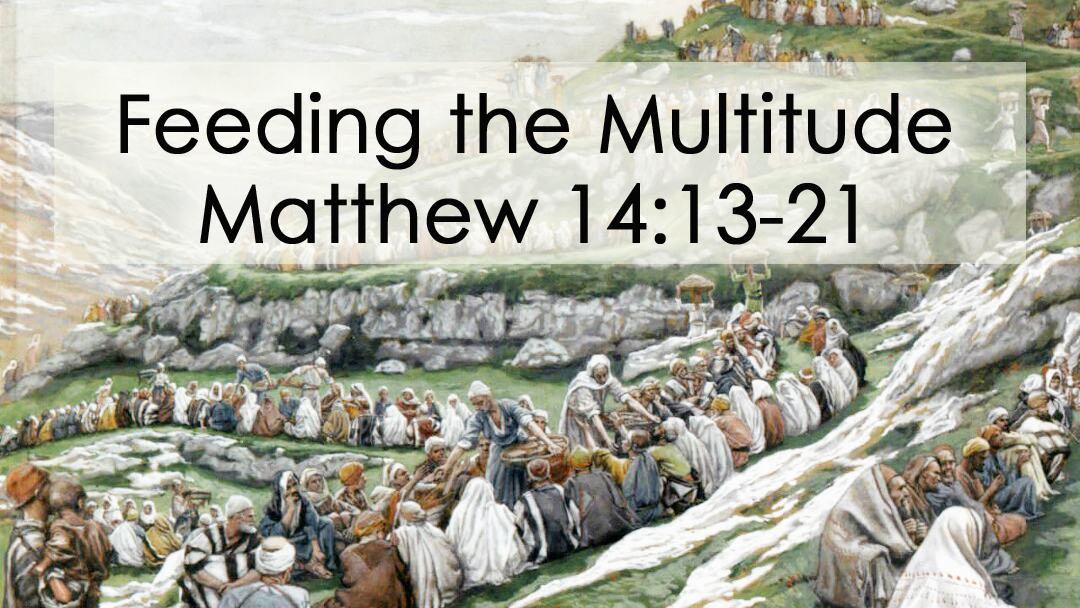 Feeding the Multitude: Reflections on Matthew 14:13-21
This miracle story of the feeding of the multitude in Matthew 14 is the only one of Jesus' miracles that is recounted in all four gospels. It appears in Mark 6:30-44, Luke 9:10-17, and John 6:1-14. There is also an account of Jesus feeding the four thousand in Matthew 15:32-39. The fourfold repetition of this story is a clue that it represents a memory near and dear to the heart of the early church. Apparently, they viewed it as a memory too important to ever be forgotten.
Matthew's account has the disciples respond in a matter of fact way to Jesus' command to them to give the people something to eat. The accounts of this story in Mk, Luke, and John, emphasize, in varying ways, the sarcastic skepticism of the disciples (Mark 6:37, Luke 9:13, John 6:7). In Matthew they simply report that "We have nothing here but five loaves and two fish." (Mt 14:17) To which Jesus responds "Bring them here to me." In John, Jesus himself distributes the food. But in Matthew, the picture seems to be of the disciples themselves moving through the crowds, distributing them to the people.
Standing in the Shoes of the Disciples: Looking Back and Looking Ahead
As we stand in the shoes of the disciples in Matthew's account, we are to obey Jesus' daring, ridiculous command. We are to offer our limited resources to him to bless and multiply, and take responsibility, not to hoard them for ourselves, but to distribute them to others. Resources could be money and possessions, but they also include time, energy, innate abilities and acquired skills.
This story prods us to get up out of our comfortable chairs and throw ourselves into offering our resources on behalf of a needy world. It calls us to remember and to anticipate, to stand in the story, looking back and looking forward to instances of divine nourishment. We are to look back to the manna in the wilderness and forward to the Lord's Supper, re-experiencing who God has been in the past, anticipating who God will be and what God will do in the future. This is the dynamic of anamnesis (active remembering) that undergirds participation in both the Passover and the Lord's Supper.
Thomas G. Long, in commenting on this passage, says,
"With desperate and hungry people camped all over the church lawn, Jesus turns, then and now, to his followers and speaks what is either a cruel joke or lavish divine humor: "They need not go away; you give them something to eat" (Mt 14:16). The disciples, fully aware that their own resources are not up to the magnitude of the need, (Mt 14:17) nonetheless trust that the jest is a divine one and obey Jesus." (Long, 165)
Jesus' words "You give them something to eat," are a "divine jest." They are a daily dare. He's saying "I dare you to take me at my word. And see what happens. "
Getting up out of our comfort zones and taking Jesus at his word
Some years ago, I sat on a beach chair under an umbrella with my extended family at a weeklong family reunion at Rehoboth Beach, Delaware. We'd been going to Rehoboth Beach since the children were small. My children and their cousins, then in their twenties, were out body surfing in the waves. I was quite the wave rider myself, back in the day. Every now and then, one of them would run up and tug on my arm, "Come on in, Mom. Come on in, Aunt Alyce. Show us how it's done." But I was wrapped up in novel The Help by Kathryn Stockett- it's a page turner. It may have also had a little bit to do with the fact that the waves were unusually high on this particular day.
The official Hollywood publicity synopsis for the movie made out of the novel describes its major theme.
"The Help" stars Emma Stone ("Easy A") as Skeeter, Academy Award®–nominated Viola Davis ("Doubt") as Aibileen and Octavia Spencer as Minny—three very different, extraordinary women in Mississippi during the 1960s, who build an unlikely friendship around a secret writing project that breaks societal rules and puts them all at risk. From their improbable alliance a remarkable sisterhood emerges, instilling all of them with the courage to transcend the lines that define them, and the realization that sometimes those lines are made to be crossed—even if it means bringing everyone in town face-to-face with the changing times.
As I sat turning pages of The Help, peering at the print from beneath the brim of my beach hat, I saw parallels to the situation of this text. It takes place in a spiritual desert- a racist Southern town in the early 1960's amid a culture of violence against activists and presidents who oppose racism and schoolgirls caught in the crossfire. In this desert three women are inspired to gather their experiences and courage and create something, a book that would challenge and inspire thousands beyond the three of them.
The novel is filled with specific instances of women both white and black who move beyond the prison of their circumstances and prejudices in response to the book project these 3 women create. All I'll say is that somebody is inspired to leave an abusive relationship. Somebody else is inspired not to get into one. Somebody else refuses to fire someone. Someone else gains the courage to make a fresh start. That's all I'll say, but that's a whole lot of nourishment out of one little book.
The movie description calls 'The Help'- "Deeply moving, filled with poignancy, humor and hope. 'The Help' is a timeless and universal story about the ability to create change."
That is not a bad description of this text from Matthew 14. Just add in the fact that it is God through Jesus who gives us that ability.
It was late afternoon by the time I turned the last page of The Help and closed in on my lap. Just about that time my son came up and said, in an impatient tone, "Come on Mom, enough excuses. Let's see you get up out of that chair and ride a wave."
Well, who could resist a challenge like that? But I had waited too late in the day. The waves were breaking just a little too close to the shore to prevent my being completely turned upside down and dragged up on the beach with both ears brimming with sand. I think someone in the family made a video which I hope is not on YouTube. Do not check to find out.
From the comfort of the beach chair to throwing yourself with abandon in front of a big wave isn't that big a step geographically speaking. Spiritually, now that's a different matter. It's not easy to take Jesus "divine jest," ("You give them something to eat") to heart and offer our resources, limited as they are, for him to bless, to break and to distribute. Yet that is what this story, told five times in four gospels, reminds us we must and can do. Starting now.
Sources Consulted
Thomas G. Long, Matthew: Westminster Bible Companion Series (Louisville, KY, 1997).
Kathryn Stockett, The Help (New York: The Berkley Publishing Group, 2009).
Add Comment:
Please
login or register
to add your comment or get notified when a comment is added.