A Control Freak's Encounter with Chaos: What One Preacher Learned from an Improv Comedian
by Rev. Dean Libby on Thursday, December 8, 2016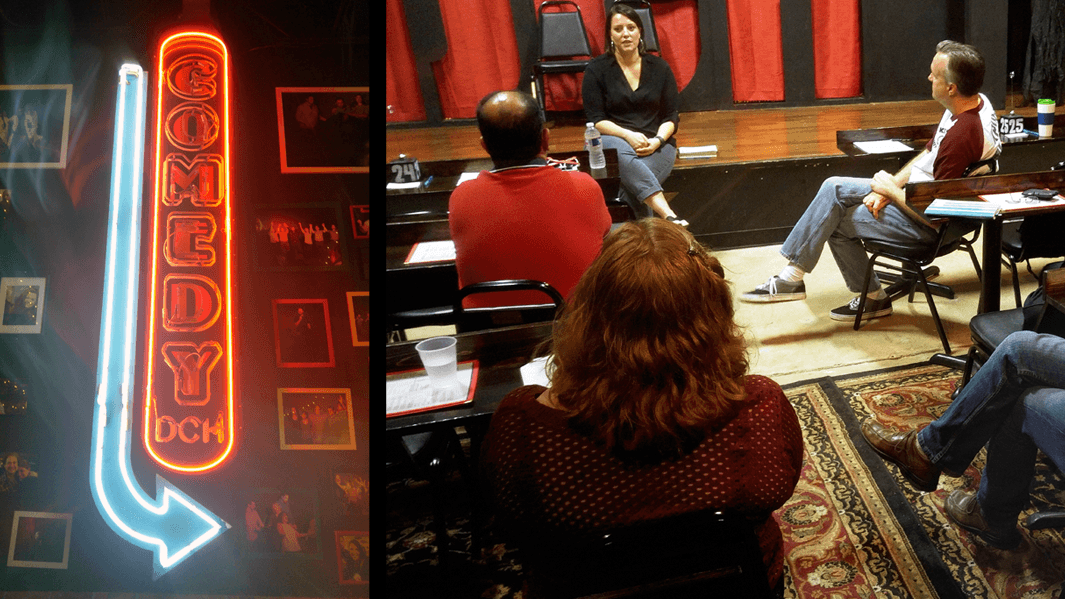 Recently the Dallas area Perkins Center for Preaching Excellence peer group, led by Dr. Michael Waters, spent a day at Dallas Comedy Club to learn together about the art of Improv and how it might shape their preaching. Dean Libby, Associate Pastor of First United Methodist Church of Sulphur Springs, wrote the following account of the day.
Hello. My name is Dean Libby and I am a control freak. I like to have things planned out. I like to know what I am going to say and I enjoy knowing that the things in my control are done the way I want them. Then I remember I work in the church and nothing about ministry is ever really in my control. My Sunday mornings are often exercises in sustained chaos.
When the idea for an improv comedy experience with the Dallas Comedy House (DCH) came up in our planning conversation for Year 2 of our Preaching Peer Group, I wanted to try it because I like the idea of having the freedom to get on stage and make things up as I went along. However, I was completely terrified at this prospect because I do not like the chaotic nature of making things up as I go along, remember, I am a control freak.
Amanda Austin, Owner & Artistic Director of DCH, set us as ease with a few quick on-stage games and writing exercises. We all learned to trust one another during our day with Amanda as we learned that improv does not happen well without "having each other's back" at all times.
Amanda expressed the DCH mission as: "Getting as many people as possible to fall in love with improv comedy." DCH does not exist to put people into seats so they can watch improv comedy. They exist to move as many people as possible out of their seats and onto the stage to perform improv comedy – even if they have never done it before. The DCH mission resonated with me as a pastor because I struggle every week to get people into seats and to fall in love with Jesus. I was convicted by my tendency to focus on butts-in-seats over people-in-love-with-Jesus in my ministry. I wondered, "If I spent more time on the latter, would the former take care of itself?"
In Ephesians 4:11-12, Paul writes, "He gave some apostles, some prophets, some evangelists, and some pastors and teachers. His purpose was to equip God's people for the work of serving and building up the body of Christ…" The work of the church is to "equip God's people" for ministry, for serving, for being the hands and feet of Christ in the world. Yet many times pastors get stuck counting butts-in-seats rather than people-in-love-with-Jesus. I know I am guilty of this and I believe the Church is poorer for it.
In order to move people from their seats to the stage, DCH offers different levels of engagement available to everyone who walks through their doors. Open mic nights offer new and seasoned stand-up comics the chance to test out their material. Improv Jam gives everyone a chance to step on stage and improv a short scene for free. DCH Socials are fun gatherings at offsite locations for food and relationship building. They regularly utilize surveys to gather feedback about what the people are experiencing while at DCH. They also offer 7-week paid classes for people to learn the principles of improv comedy and have fun growing relationships and skills at the same time.
This immediately sparked a series of questions in my head:
What are my church's levels of engagement?
How are we moving people from consumers to creators?
How are we engaging people in the mission and ministry of Jesus Christ? Have we made it too hard for people to engage?
Do we listen to feedback or even seek it out?
Are we satisfied with just getting folks into the seats?
Doesn't the gospel deserve more than that?
I do not have all the answers. In fact, I think I now have more questions. However, I am confident that our day with Amanda and the Dallas Comedy House will reshape the way I lead, teach, and preach in my local church because helping people fall in love with Jesus and equipping them to serve in our community and the world is a mission that I am willing to spend the rest of my life pushing forward. My control freak tendencies will creep up from time to time along the way, but I am now more confident that I can build a team who will make it their priority to "have each other's back" at all times.
Rev. Dean Libby
Associate Pastor, First UMC Sulphur Springs
Add Comment:
Please
login or register
to add your comment or get notified when a comment is added.